PKR Bonus Code
As a new player at PKR.com there are a number of PKR bonus codes that can be used before depositing to get you an extra bonus on top of your original deposit. On this page we've outlined the various bonus codes, minimum deposit and options for new players to the site. If you already have an account at PKR, you are not eligible for these sign up bonuses however may be eligible for re-deposit bonuses and ongoing promotions that are offered by PKR. Below you will find the best sign up codes that are guaranteed to get you the maximum bonus as a new depositing player at PKR Poker.
"PKRRAKE30" - Our most popular bonus code, using this sign up bonus you will receive 30% lifetime rakeback paid monthly as well as a 100% up to $800 sign up bonus on deposit.
You will also receive 6 tickets to premium $1,000 freerolls by claiming this bonus as well as 1,500 PKR points which can be used to deck out your 3D poker avatar in the PKR points store right away.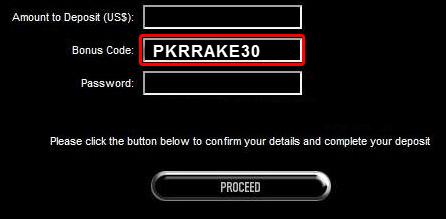 In addition to the $800 sign up bonus, it's also possible to get a 100% up to $2,000 bonus from PKR if you are depositing a large amount. In order to claim this bonus, sign up using our code above and email PKR's special address to request the bonus before depositing. They will raise your deposit limits and enable you to claim the larger bonus. Please note that you must use the "PKRRAKE30" code first if you want to receive rakeback in addition to the $2K bonus.
What Is The Minimum Deposit For The PKR Bonus?
To claim the $800 bonus players must deposit a minimum of $10 at PKR on their first deposit and will be matched at a 100% rate up to a maximum of $800 in free chips. In addition, your account will be credited with six freeroll tickets and 1,500 PKR points to get you started. You will also receive 30% lifetime rakeback on your account paid monthly by PKR directly into your real money player balance.
What are The Terms of The PKR Sign Up Bonus?
Once you have signed up and claimed your PKR sign up bonus, you will need to earn 225 PKR points for each $1 of bonus money by playing in raked hands at PKR. The site does not allow for partial release of the bonus and you will have 60 days in which you must satisfy the entire bonus requirements in order to have the bonus credited to your real money balance. Once you have achieved the required number of points, the bonus is automatically placed into your PKR account & will show in your balance.
Can't I Just Create A New Account Under A New Name?
Although this is not considered totally ethical, many players do end up opening new accounts in relatives or spouses names. While we do not advocate this, it is one possible solution to receive rakeback if your are denied on your original accout. That being said, you must realize that the security measures are strict at the poker rooms and you will most likely need to present ID, etc in order to withdraw from your account. We leave this one to you, just understand the potential risks involved in opening another account and that it could ultimately lead to closure and/or banning.