PKR Features
PKR is probably the most advanced poker site in the world when it comes to additional features added into their software. Since the 3D poker room is so intricate, it's no surprise that your characters can literally come to life at the tables as you are playing the games. On this page we've listed some of the cooler features you can expect to find when you play poker on PKR for real money. This includes a full list of emotes as well as special tips and tricks that can be used during game play by your character.
Sign Up Now - Get 27% Rakeback, $800 Bonus, 6 Freerolls & 1,500 PKR Poker Points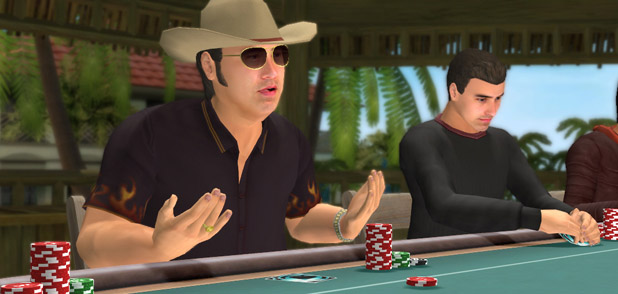 PKR Emotes & Emotions
One of the coolest features of playing on PKR Poker is the emotes that let you express different actions in 3D through your character. All you need to do to create an emote action is type one of the following codes in the chat box and hit enter, your player will then complete the associated action at the table.
/atlast - at last
/brb - will be right back
/boo - boo
/bosh - bosh
/bravo - bravo
/bringiton - bring it on
/bye - bye =will see you
/cheer - cheer
/chicken - chicken
/chuckle - chuckle
/clap - clap
/congrats - congratulations
/cough - cough
/crikey - crikey
/cry - cry
/cu - see ya
/dance - dance
/drum fingers - drum fingers
/dude - dude
/fan - fan
/finally - finally
/flirt - flirt
/frown - frown
/gasp - gasp
/gb - good bet
/gc - good call
/gf - good fold
/gg - good game
/gl - good luck
/grin - grin
/grr - grr
/hello - hello
/hi - hi
/iyf - in your face
/kiss - kiss
/laugh - laugh
/lmao - laugh my ass off
/lol - laugh out loud
/loser - loser
/nh - nice hand
/niceone - nice one
/no - no
/nk - no kidding
/np - no problem
/nty - no thank you
/noway - no way
/omg - oh my god
/oops - oops
/orly - oh really
/owned - owned
/phew - phew
/rude - up yours
/shake head - shake head
/shame - shame
/shutup - shut up
/smile - smile
/sorry - sorry
/stretch - stretch
/sweet - sweet
/ty - thank you
/think - think
/thumbsdown - thumbs down
/thumbsup - thumbs up
/time - time
/typical - typical
/unlucky - unlucky
/wp - well played
/whatever - whatever
/wink - wink
/yawn - yawn
/yay - yay
/yes - yes
/yw - you're welcome